Heeft u interesse in een pup? Neem dan contact op of check de Facebook pagina van Mireille Martens voor geplande nesten.
Are you interested in a pup? Please contact us or check Mireille Martens Facebook for expected litters.
14 augustus
Vanochtend getest of de pups terras proof zijn, allemaal geslaagd!
.
17 juli 2016
Buiten spelen.
26 juni 2016
Elke dag een beetje groter en sterker. Voorzichtig worden de eerste stapjes gezet en geluidjes gemaakt.
23 juni 2016
Sweet dreams.....
20 juni 2016
Hello world.....
19 juni
Regenboogpuppies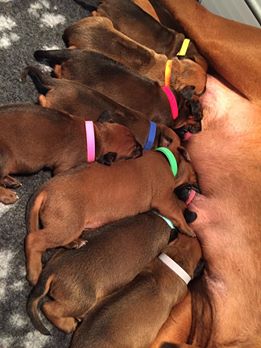 14 juni 2016
Super mom...
10 juni 2016
Vannacht heeft Kioni Ngwani of Yenna's Pride 8 geweldige pups op de wereld gezet, 6 teefjes en 2 reutjes. Alle pups hebben een mooie ridge en geen knikstaarten. Vader: Mcheshi of Sotho Bantu. Moeder en kroost maken het goed. Nog slechts enkele pups beschikbaar voor de serieuze liefhebbers. Info? Mail naar ofyennaspride@gmail.com.
Last night Kioni Ngwani of Yenna's Pride gave birth to 8 gorgeous pups, 6 girls and 2 boys. All pups have a beautiful ridge and no kinked tails. Sire: Mcheshi of Sotho Bantu. Mom and offspring are doing great. Only a few more pups available for serious candidates. Info? Email to ofyennaspride@gmail.com.
Rhodesian Ridgeback news
8 mei is de dracht bevestigd van Kioni
 Deze combinatie heeft zich in het verleden al bewezen. De nakomelingen hebben geweldig exterieur, prachtige tarwekleurige vacht en sublieme karakters. Interesse in een pup uit de combinatie Kioni Ngwani of Yenna's Pride X Mcheshi Of Sotho Bantu, mail naar ofyennaspride@gmail. De pups worden medio juni verwacht.
May 8th pregnancy was confirmed by ultrasound. This combination has already proven its qualities. Their offspring have great exterior, beautiful weaten color and excellent characters. Interested in a puppy of the combination Kioni Ngwani of Yenna's Pride X Mcheshi of Sotho Bantu, email ofyennaspride@gmail.com. Litter is due mid-June.
Meer infomatie?
Mireille Martens
06-54725528
ofyennaspride@gmail.com
        Mcheshi  Of Sotho Bantu                   &     Kioni Ngwani of Yenna's Pride